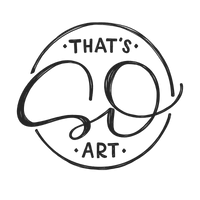 Hi, I'm Sara
The SO in That's SO Art
What started off as a dad-joke about turning my initials into a business name led me to this little corner of the art world. I hope you find something that makes you smile.
Multi-disciplinary artist
Located in Athens, Alabama
I've been in the creative space since 2013. I settled in comfortably on the tech side of that career until 2019 when I hit a mental health low. I made a TikTok to make and post something everyday, with no expectations. If you're here from the Make Something Today era, sincerely, thank you. After a couple of months of rekindled creativity, I decided to create a business plan and give myself six months to make it or break it.
The rest is history.
Every product I make is intended to brighten someone's day, to make them feel hope, to remind them that someone cares about them and that they're worthy of love. I love painting your houses, have a soft spot for florals, line art and abstract acrylics.
I struggle with anxiety, have been touched by suicide and take mental health seriously. If you're reading this, go ahead and assume I'm your new messy life friend.
Faith is also important to me, especially balancing mental health with a strong faith. Too often I've heard "you just need to pray about it" when in reality I also needed something to balance my emotions and a solid therapist and safe space to heal.
We don't do toxic positivity over here. We do grace and hope. We protect our peace and we protect each other. We are open and kind to each other, always. We build communities not competition. We value individuality and creativity. I hope you'll come along for the ride.