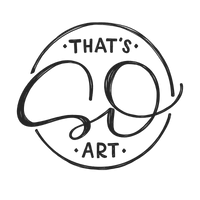 FAQs
Find answers to our most frequently asked questions below. If you don't find what you're looking for, send me an email at sara@thatssoart.com.
Check out the Art Supplies category in the shop for some of my tried and true favorites. If you're looking for professional-grade supplies, let me know and I can put in a special order.
I wish I could paint everyone's house. Really! Currently, I'm unable to take on more than 1-2 house portraits at any given time. When I add spots to the website, I will send out an email newsletter. They book first come first serve from there, usually in minutes.
Absolutely! Send me an email at sara@thatssoart.com and tell me a little bit about your project or business and I'll send over my wholesale price sheet and minimum order quantities.
I wish I was an artist who loved to paint everything but pets and people just aren't it for me. I can point you in the direction of other artists who do an amazing job with fur babies though!
To keep it short, it depends. One thing to keep in mind for a total custom project (stickers, church art prints and t-shirts specifically) is that the cost to create the original design usually makes this a premium service. Once the design is covered, the products we can put that design on are endless!